Here are my other pet I have beside Guinea Pigs!
(brother let free!)JUNEJULI:Budgerigar Parakeet.Green and yellow.Use to have.
JOEY:Black Poddle,7 years old.
Baby: My calcio cat who is 1 1/2 years old.
TURTLES:Teddybear(male)and Spy(female).Red-Ear Slider Turtles.UPDATA:I dont have Spy or Swimmer.They died.I now only have Teddybear!
FISH:I have 4 golden fishes.
CHAMELEON:4 Anole Chameleon.Rex,Moe,Bert,Alice.(Alice,and REX DIED)R.I.P
CRAWFISH:Pincer.(died)
HAMSTER:I use to have a hamster named Carmel.My brothers son gave me her.This amaing hamster is now 6 years old.
Grazie: My grey drawf hamster.
Zizi: I got him on march 3 ,02. He died because another hamster in the petstore bite him and made a hole in his intestines!!!DIED on march 6,02(R.I.P)
GG(Gecky the Gekco):Died on Agust 21,2001.

This are my other pet that I have
Joey <---> Baby.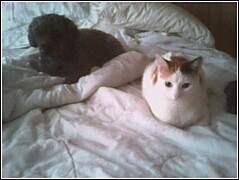 Grazie
My newest Little Dwarf Hamster.
(BOVE)I use to have 6 .NOW I have only 4!
I have 2 Red-Eared Slider turtles.Their names are Swimmer and Teddybear!Ahhh
I have 1 Crayfish!
I have 8 Goldfish.
I use to have a fish like this one .